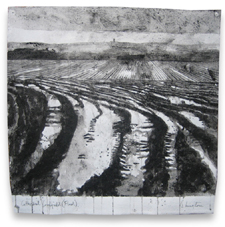 ''Cathedral Coalfield (flood)' by Stephen Livingstone (2008)
Industry, Land & Health
Don't miss this show opening on 1st May 2009 in the Durham University Engineering Department.
The show will include more than twenty new works by Mike Clay, Sharon Gollan, Stephen Livingstone and Clare Money, as well as a specially commissioned piece by Angela Sandwith.
The show is open for the whole of May, weekday office hours only, in the Engineering Department Coffee Bar and is supported by the Institute of Hazard & Risk Research. See here for more details and directions.
Frances Thirlway

This site was last updated on 23rd April 2009.